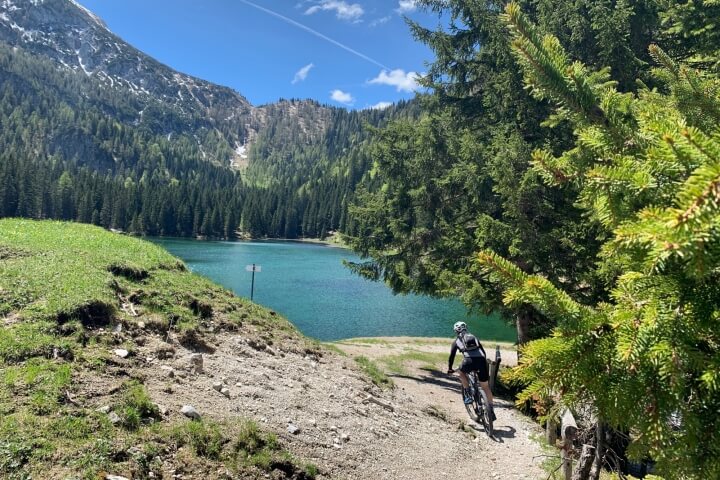 Mountain bike, e-bike, road bike: Trentino and the Dolomites are a popular destination for lovers of two wheels, who find in the Hotel Chalet del Sogno the ideal partner for their cycling holiday in the mountains.
The owner of the Hotel (ex Olympic athlete and bike guide) and the Chef are in fact two great cycling tourism enthusiasts and can't wait to accompany you along the most beautiful itineraries of Madonna di Campiglio and the Adamello Brenta Natural Park.
In our bike hotel in the Dolomites you can also rent high-end mountain bikes and electric bicycles with pedal assistance (Bianchi, historical Italian brand).
You will then be spoiled for choice: Madonna di Campiglio is in fact known to enthusiasts for having been a stage of the Giro d'Italia several times, closely linked to the memory of Marco Pantani and therefore full of routes even for expert cyclists. However, we are also in a place surrounded by cycle paths suitable for everyone and close to the traffic-free valleys of the Natural Park, ideal for cycling in total freedom and safety.
Your mountain bike holiday in Trentino
Madonna di Campiglio, together with Val Rendena and Val di Sole, offers a great variety of mountain bike trails and itineraries for all levels.
Whether you are looking for a simple bike ride through dirt roads that lead to local mountain huts or you want to try your hand at descents at high altitude, enduro or downhill, Trentino is the ideal destination for a holiday on two wheels immersed in breathtaking landscapes.
The largest bike area in Italy extends from the Brenta Dolomites Unesco World Heritage Site to Lake Garda and Hotel Chalet del Sogno is in an excellent position to explore these itineraries, offering its guests assistance, advice and bikes. for rent.
For the more experienced we recommend the famous Brenta Bike, a fascinating tour in the Western Dolomites for lovers of height differences (the Expert itinerary leads up to 2000 meters high) but also for those who want to enjoy the nature of the mountain in total safety.
Also in the western part of Trentino you can cycle (classic or electric mountain bike) the DOGA route (Dolomiti Garda - Alpine Cycling Route), developed through 4 alpine valleys from the Adamello Brenta Natural Park to Lake Garda.
In any case, starting from our hotel, many mountain bike trails suitable for everyone can be reached in a short time, which will make you discover mountain trails, villages, lakes, woods and truly unique views.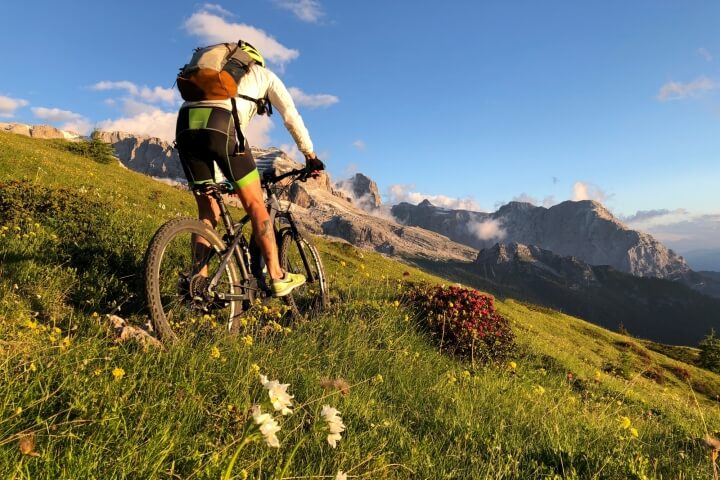 Discovering the Dolomites by road bike
On the trail of Pantani, Coppi and Bartali, you can retrace legendary climbs and try your hand at the most famous Dolomite passes: a short distance from the Hotel Chalet del Sogno you will have the Mendola pass, the Tonale pass, the nearby Gavia and Mortirolo pass and the climb to Madonna di Campiglio (which winds for 15km to show you the Brenta Dolomites in all their splendor once you reach the top), which will allow you to test your endurance by retracing the main roads of the most beautiful stages of the Giro d'Italia.
However, cycling holidays in Trentino are not reserved for the most daring sportsmen: with the racing bike you can in fact also travel the numerous cycle paths of Val Rendena and Val di Sole, as well as the valleys of the Adamello Brenta Nature Park limited to traffic. Here you will be enchanted by medieval castles, small villages and unspoiled nature and you can also go and discover local producers and excellences.
Always with the rOAD bike it is also possible to travel some variants of the Dolomiti Garda - Alpine Cycling Route, which leads to the olive groves on the shores of Lake Garda through breathtaking landscapes.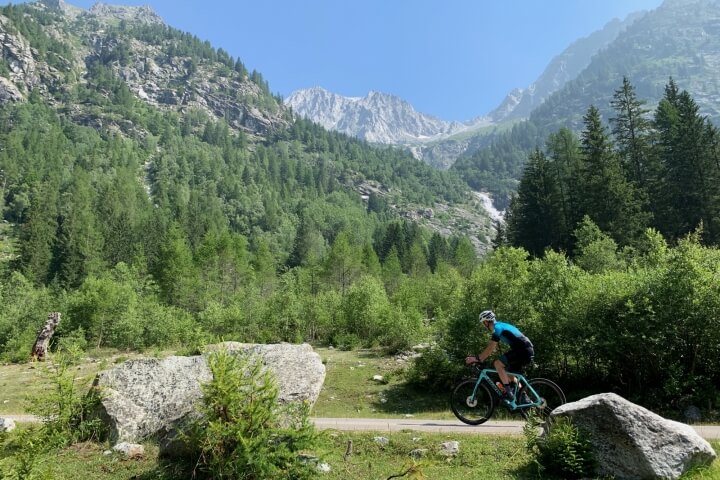 The services of our bike hotel in the Dolomites
Hotel Chalet del Sogno offers various services for lovers of two wheels who want to spend a cycling holiday in Trentino.
In the hotel you will find a bike storage with a small workshop for the washing and basic maintenance of your vehicles and a staff passionate about the bike world always ready to give you advice and help you plan the excursions that best suit your needs.
Furthermore, maps and GPS routes of all the itineraries available in the area and a mountain bike and electric bike rental service are available to guests.
And if you like it, we will be happy to accompany you and guide you along the most beautiful routes and make you discover these mountains on which we grew up and love to ride.