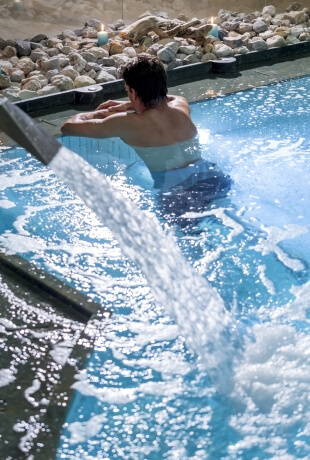 Enjoy a luxury wellness holiday at Chalet del Sogno, a 5-star hotel with SPA in the Dolomites: relax, quiet and beauty treatments with natural products will help you restore body and mind, surrounded by the splendid scenery of this UNESCO World Heritage site.

Our SPA Oasi del Sogno was designed precisely to offer a wellness experience in the middle of the mountains, where scents and landscapes reinvigorate the spirit: the same sensations you will experience in our SPA, surrounded by natural materials such as fir, larch, clay and hay, and scents of mountain herbs and flowers that will make you feel like lying on a meadow in the middle of the Dolomites.
A relax room with ergonomic beds, the aromatherapy of the Biosauna, the whirlpool and the indoor pool ... there are many ways in which you can take care of yourself, giving yourself a moment.
Wellness hotel in Trentino: let yourself be pampered by all our services

Imagine immersing yourself in the balsamic scents of the alpine air or relaxing tension and stress with a dip in the pool, perhaps after an invigorating massage: all this is possible in the SPA of our Hotel in Trentino, which offers guests a wellness program, a Biosauna , an indoor swimming pool, a gym and a beauty center.

Your wellness experience in the Dolomites can begin with the classic SPA path in an alternating dance of hot and cold between Finnish sauna, Turkish bath and ice waterfall: it will be like immersing yourself in the scents and warmth of the mountain in summer and then reinvigorated under a waterfall in the woods. A real wellness path that will help you relax, stimulate blood circulation, eliminate stress and toxins and relax the muscles, with great benefits if you have just spent a day on skis and snowboard or after a long walk.

After the wellness program, the relaxing and restful phase awaits you in the relaxation room of our SPA, where ergonomic beds made by hand in larch, beds equipped with heated water mattresses for enveloping comfort, herbal teas and healthy snacks will help you abandon yourself to peace and a well-deserved rest.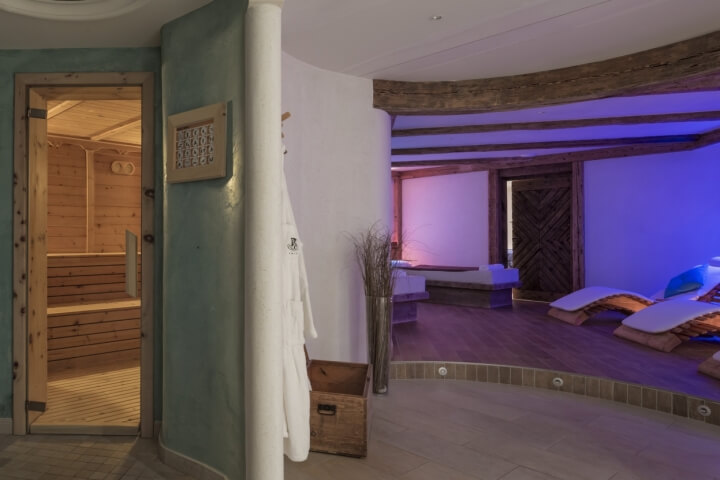 For a gentle and detox sweating, our SPA Oasi del Sogno also offers a Biosauna, based on the combined action of the heat produced by infrared rays and steam with a temperature of 27 ° C with a humidity level above 70%. The purification experience is then enriched with alpine fragrances and also in this case you can conclude with the cooling effect of an ice fountain.

Finally, the real flagship of our SPA Hotel in the Dolomites: Biodream, also called the "joy machine" because it has, among its numerous effects, that of instantly improving the emotional state of those who use it, thanks to the use of light that acts on the endocrine and metabolic system.
Its operation integrates a gentle pneumatic massage with chromotherapy, systemic hyperthermia, music therapy and light therapy. The treatments are automatically personalized and adapted to the subject through a synchronization system with the heart rhythm via a frequency meter; there is a cycle of basic "Order - Energy - Joy" programs which can be followed by specific treatments according to their needs (slimming, detoxifying, anti cellulite, sleep disorders, getting back into shape, increasing physical performance, jet-lag).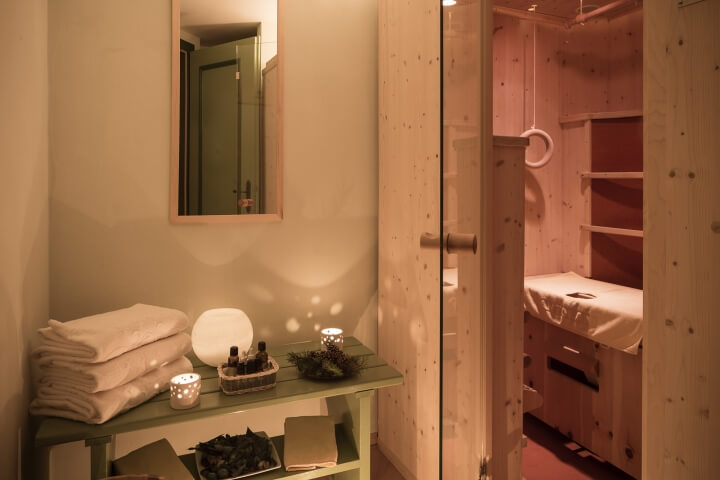 Oasis of Dreams: a spa with indoor pool and gym for your holidays in Trentino

To relieve muscle tension or simply relax after physical activity outdoors, you can dive into the indoor pool of our wellness hotel, heated to 29 ° and equipped with counter-current swimming, cervical massage and underwater jets for lumbar massage and limb massage lower. But not only that: we love to define our swimming pool as an "aquatic gym", where you can have fun and keep fit even with Idrobike and Idrorunner positioned in the water. Also available to guests is a state-of-the-art whirlpool tub with a temperature of 35 °.

And if the days spent on the ski slopes or walks in the mountains are not enough, you can also continue your physical exercise in the gym, where you will be followed - on request - by a personal trainer and you will have machines, weights and dumbbells, machines. cardio and a space for stretching.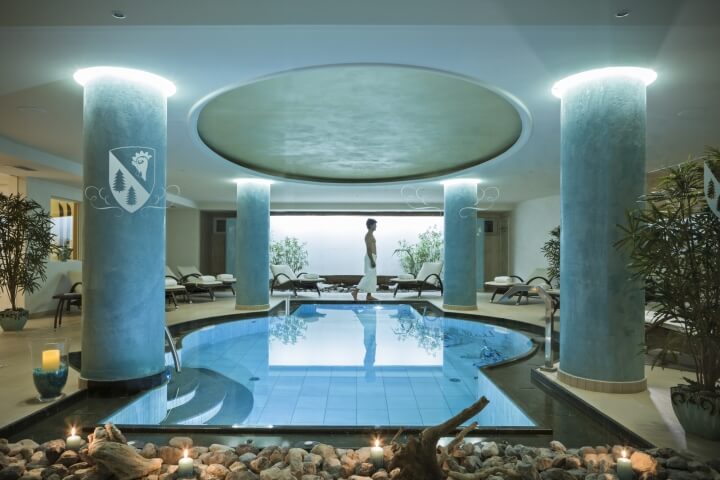 Our Wellness Center in the Dolomites


A luxury wellness experience in Trentino cannot be separated from a wellness center that offers face / body treatments to recover energy and vitality: professional therapist and natural high-quality cosmetic products are the ingredients of the Chalet del Sogno beauty center, a place where abandon yourself to forget stress and emotional tensions.

Inside our Wellness Center we try to recreate the enveloping and beneficial atmosphere of the mountains also through a welcoming and typical architecture of these places. In fact, you will find two individual beauty and massage cabins and a couple massage cabin, where the scent of the brushed fir furniture, the clay and hay walls and the aromas of herbs and dried mountain flowers will make you feel as if you are lying in a dream meadow in the middle of the mountains.
The effectiveness of each treatment or massage is enhanced by the use of cosmetic lines based on mountain plants such as arnica or edelweiss, which provide the skin with everything it needs. For this we have selected only the highest quality brands such as A.N.D. ("A Natural Difference"), an American company at the forefront of cosmeceuticals that offers products based on pure natural extracts, and Pure Attitude, born in the heart of the Alps, which uses a selection of plants and ingredients from the mountain environment.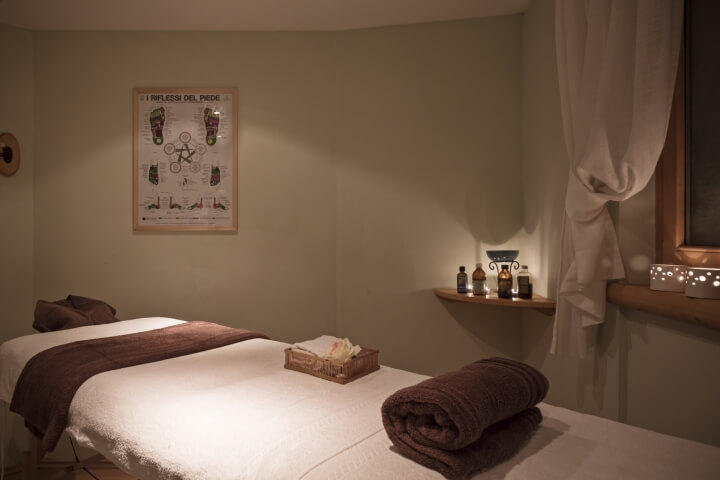 Ecco alcuni dei trattamenti che troverete nel Centro benessere del nostro Spa Hotel:
Massaggi classici e ayurvedici
Percorsi benessere che mixano impacchi, massaggi, trattamenti viso/corpo con gli effetti benefici di Biosauna e Biodream
Trattamenti riparatori per il viso, ideali dopo una giornata all'aria aperta, al freddo e/o al sole.
Trattamenti che utilizzano la stella alpina associata a più di 50 estratti vegetali di montagna, con proprietà antiossidanti, rigeneranti e remineralizzanti.
Trattamenti per i più piccoli, per una giornata in SPA in famiglia.
Rituali di bellezza per mani e piedi: una coccola dopo manicure e pedicure.
Se quindi siete alla ricerca di un hotel di lusso con SPA in Trentino, non esitate a contattarci: vivrete la vostra vacanza di benessere tra le Dolomiti in un luogo da sogno, coccolati dai servizi e dai trattamenti del nostro wellness center.